The history of the building from 1865, and its relationship with the changing city of Nottingham.
1914 to 1918 and 1939 to 1945, including productions staged and the theatre's role in supporting the war effort.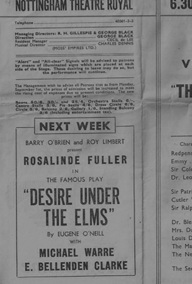 A key fixture in the theatre's calendar since The House that Jack Built in 1865: an annual celebration for Nottingham audiences.
The stories of performers, audiences, stage door keepers, technicians, front of house and more: exploring the venue through people's memories.
Our Theatre Royal Nottingham
As part of the Our Theatre Royal Nottingham project, we are holding a series of talks focused on each of the four project themes, as well as memory afternoons where members of the public can share stories and objects from the Theatre's past.
Digital archive
This digital archive is supported by the National Lottery, through the Heritage Lottery Fund and has been created through a collaboration between the Theatre Royal Nottingham and the University of Nottingham; with additional funding support from the University of Nottingham, Theatre Royal & Royal Concert Hall Nottingham and Nottingham Civic Society.
DISCLAIMER - All the pictures included we either own or use with the permission of the copyright holder. If you own the copyright to these pictures and we have not contacted you for permission, please email us and we will remove it immediately. This website will be frequently updated. If you have material that you would like to share, or if you know any further information about these pictures, we would love to hear from you. You can do this either by
emailing us
or on
Our Theatre Royal Nottingham Facebook page
.